PegasusBrill, often referred to as 'The Sound Guy,' is the sound editor for Whooves and Assistant. As of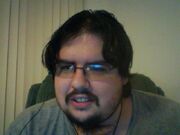 episode 8, he provides the voice of
Tick Tock
. He is the former roommate of
BaldDumboRat
, the voice of
Derpy Hooves
.
He has worked for the Whooves and Assistant team since episode 4.
He creates all of the sound effects himself. For example, in episode 5, when the Doctor is eating, the sound effect used was from when Brill accidentally recorded himself eating a piece of bread.
Ad blocker interference detected!
Wikia is a free-to-use site that makes money from advertising. We have a modified experience for viewers using ad blockers

Wikia is not accessible if you've made further modifications. Remove the custom ad blocker rule(s) and the page will load as expected.